Raul De Lara : Summer 2022 Leaf Series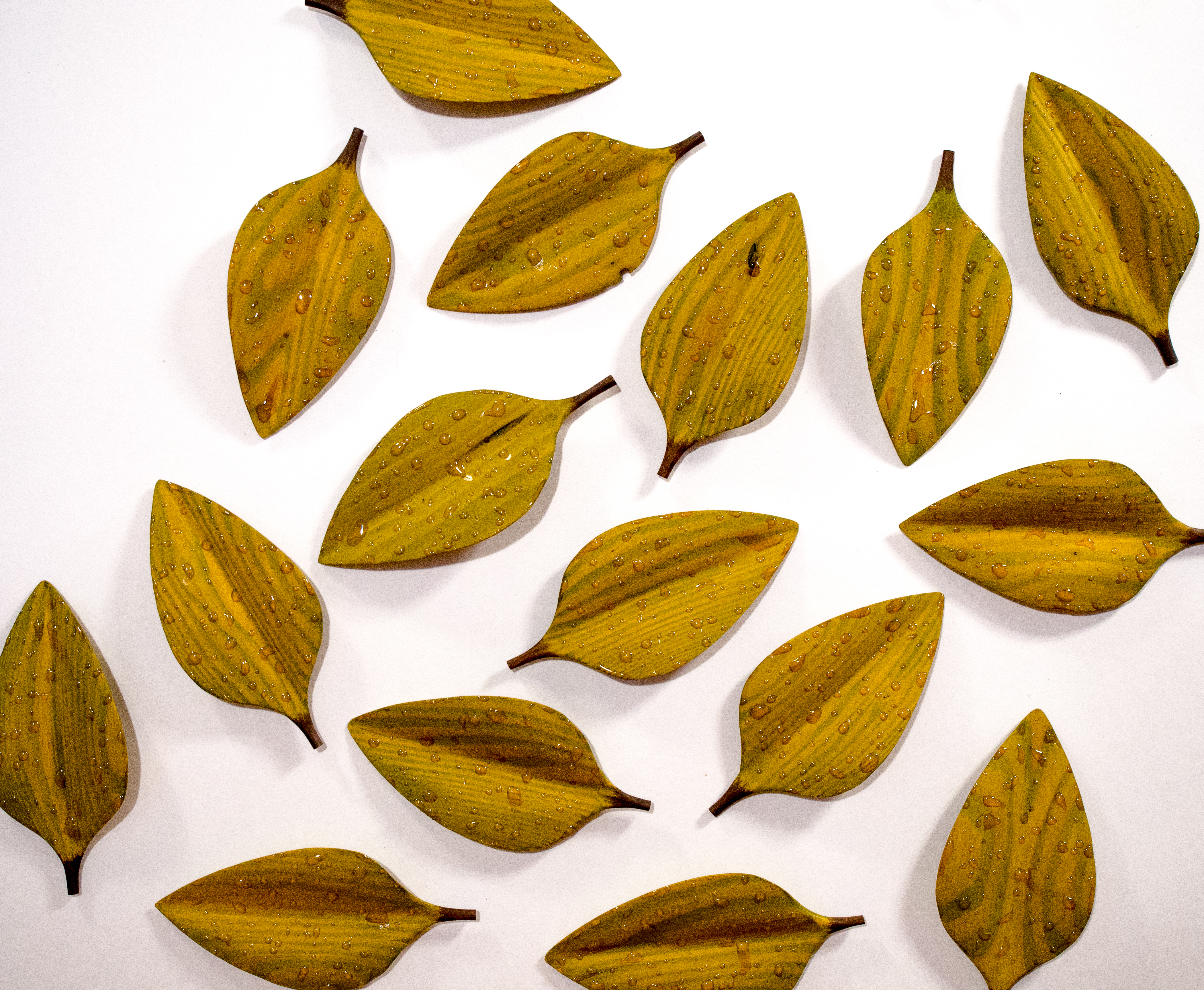 Leaf 1


Raul De Lara
2022
Pine, Neodymium Magnet, Epoxy, Pigment, Urethane
6" x 1/4" x 3"
Leaf 2


Raul De Lara
2022
Pine, Neodymium Magnet, Epoxy, Pigment, Urethane
6" x 1/4" x 3"


Leaf 3


Raul De Lara
2022
Pine, Neodymium Magnet, Epoxy, Pigment, Urethane
6" x 1/4" x 3"


Leaf 4


Raul De Lara
2022
Pine, Neodymium Magnet, Epoxy, Pigment, Urethane
6" x 1/4" x 3"


Leaf 5


Raul De Lara
2022
Pine, Neodymium Magnet, Epoxy, Pigment, Urethane
6" x 1/4" x 3"


Leaf 6


Raul De Lara
2022
Pine, Neodymium Magnet, Epoxy, Pigment, Urethane
6" x 1/4" x 3"


Leaf 7


Raul De Lara
2022
Pine, Neodymium Magnet, Epoxy, Pigment, Urethane
6" x 1/4" x 3"


Leaf 8


Raul De Lara
2022
Pine, Neodymium Magnet, Epoxy, Pigment, Urethane
6" x 1/4" x 3"


Leaf 9
Raul De Lara
2022
Pine, Neodymium Magnet, Epoxy, Pigment, Urethane
6" x 1/4" x 3"


Leaf 10


Raul De Lara
2022
Pine,Neodymium Magnet, Epoxy, Pigment, Urethane
6" x 1/4" x 3"


Leaf 11
Raul De Lara
2022
Pine, Neodymium Magnet, Epoxy, Pigment, Urethane
6" x 1/4" x 3"


Leaf 12


Raul De Lara
2022
Pine, Neodymium Magnet, Epoxy, Pigment, Urethane
6" x 1/4" x 3"
Artist retains copyright and all licensing privileges to the artwork. Do you have questions about purchasing your artwork? Click on our
FAQ
page.
About the Artwork

Print & Object is proud to present the release of a new series of sculpture works by NYC-based artist Raul De Lara. Molding and shaping wood into plush surfaces and melting forms, De Lara awakens the limitlessness of his materials transforming them into imaginative states of being. Inlaid with undertones of subtle humor, a distinct personal iconography, and touch points of both cultural and individual history, De Lara's practice is a generous offering of interwoven narratives and expert craftsmanship.

His hand-carved leaf works are found at various points throughout his practice, ebbing and flowing through the years from stand-alone sculptures to charms that sneak into large scale installations as symbols of labor, support, and resilience. His iterations have generated a community where individual leaves of the same series reside in homes and exhibition spaces across the globe - a network of foliage that connects farther than their inspiration point may be able to grow in nature.

Each leaf is a contradiction of time; usurping the laws of nature by immortalizing drops of dew into a suspended state of condensation that lasts forever. Yet, each leaf is also a diary of time, as the tree's rings snake across the sculptural surface narrating the years gone by, the previous life led, in a vulnerable unfurling. It is the union of both states, time suspended and time laid bare, that enlivens these works with poetic complexity.

De Lara's visual language explores how stories, belonging, ritual and identity can be imbued in wood, silently present across the surface skin of each sculpture. Each leaf from this new series is an access point, an invitation to consider the single extracted from the whole, the outside standing strong amongst the inside, and the collective community that we all are individuals within.

Print & Object is honored to feature these new works exclusively on our platform.

.

About the Artist

Raul De Lara is a sculptor based in NYC. He was born in Mexico and taught woodworking at a young age by his architect and interior designer parents. De Lara immigrated to the USA at the age of 12, and has been a DACA recipient since 2012. His works reflect on ideas of nationality, language barriers, and belonging. His sculptures explore how stories, folklore and rituals can be silently communicated through wood - a material that always shows the passing of time on its skin. De Lara's aesthetics and materials are inspired by the shared backyard between the USA and Mexico. His recent exhibition sites include Miami Beach, New York, Switzerland, Mexico City and Los Angeles. De Lara has participated at The Fine Arts Work Center in Provincetown Fellowship, Ox-Bow School of Art Fellowship, Haystack Open Studio Residency, the LMCC Art Center at Governors Island Residency, and the Chicago Artists Coalition. De Lara received a BFA from the University of Texas at Austin in 2015 and an MFA from Virginia Commonwealth University in 2019.


De Lara in his studio.