Claire Ashley : B.A.I.R.N.S. (A Gaggle)
Baw VIII


Claire Ashley
2021
Mixed Media
12" Diameter, Dimensions Variable
Baw IX


Claire Ashley
2021
Mixed Media
18" Diameter, Dimensions Variable


Baw X


Claire Ashley
2021
Mixed Media
12" Diameter, Dimensions Variable


Baw VI


Claire Ashley
2021
Mixed Media
18" Diameter, Dimensions Variable


Baw V


Claire Ashley
2021
Mixed Media
18" Diameter, Dimensions Variable


Baw XIV


Claire Ashley
2021
Mixed Media
14" Diameter, Dimensions Variable


BAW iV


Claire Ashley
2021
Mixed Media
14" Diameter, Dimensions Variable


Baw II


Claire Ashley
2021
Mixed Media
16" Diameter, Dimensions Variable


Baw XIII
Claire Ashley
2021
Mixed Media
14" Diameter, Dimensions Variable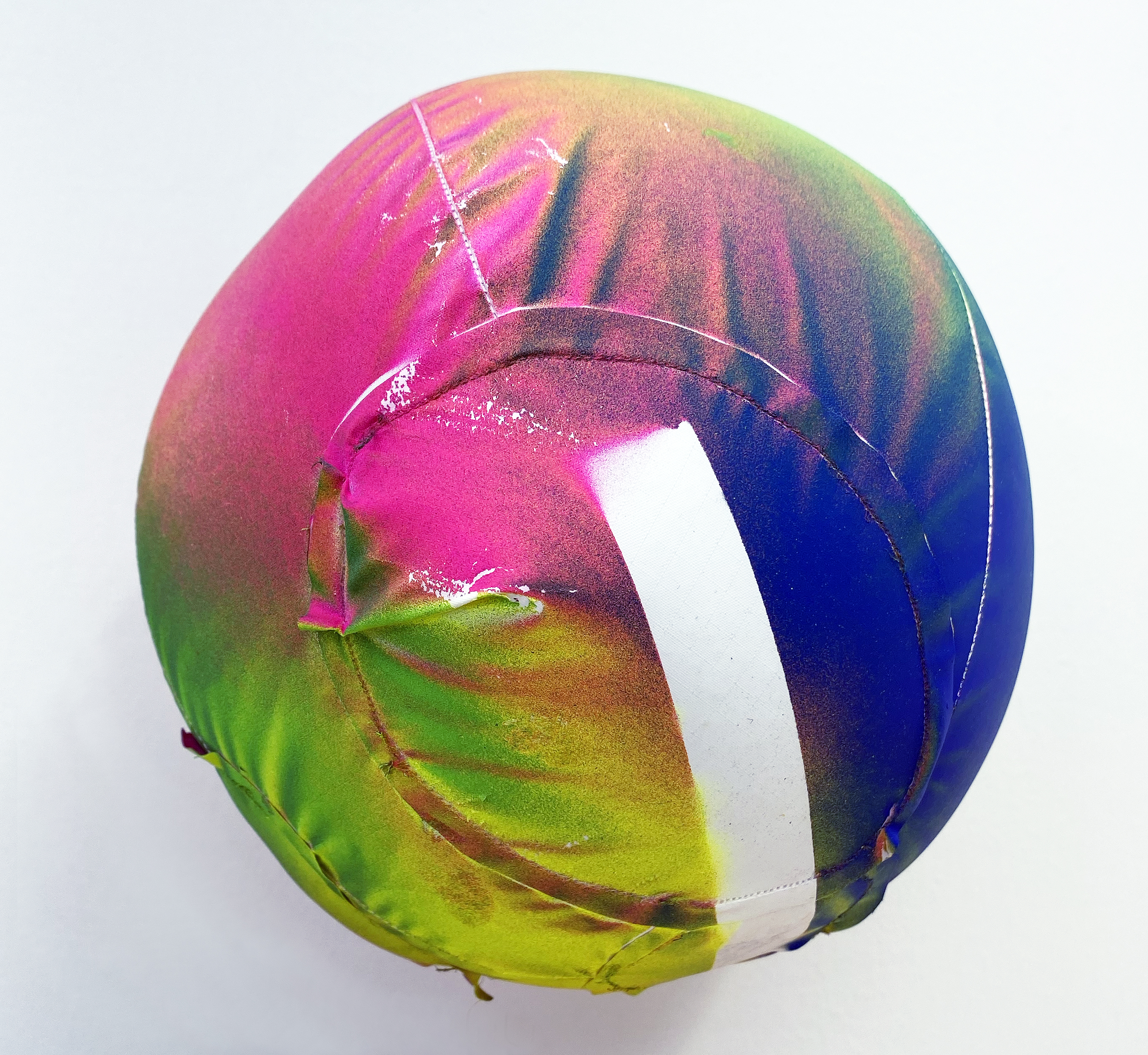 Baw I


Claire Ashley
2021
Mixed Media
10" Diameter, Dimensions Variable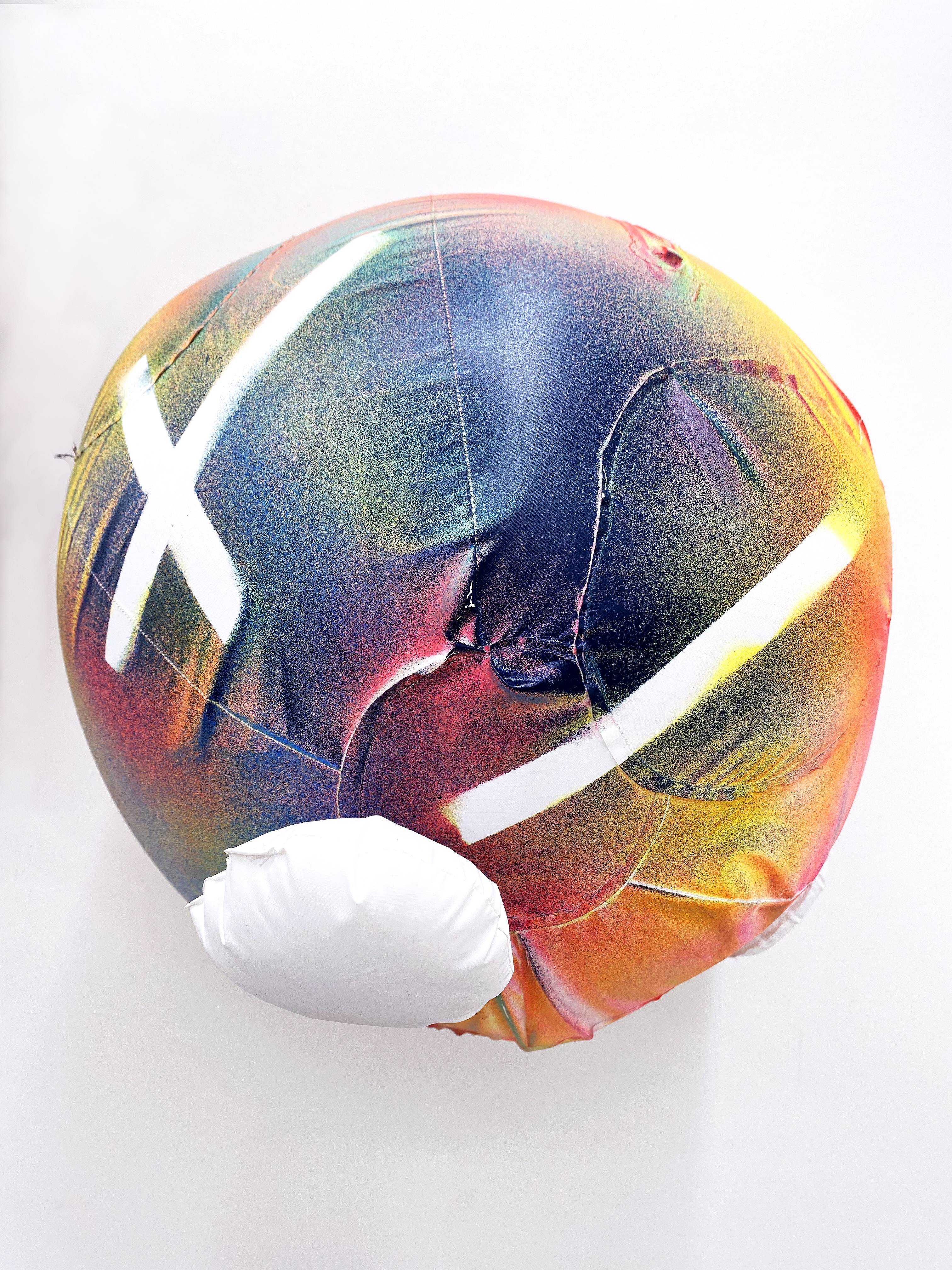 Baw III


Claire Ashley
2021
Mixed Media
18" Diameter, Dimensions Variable
Baw VII


Claire Ashley
2021
Mixed Media
12" Diameter, Dimensions Variable
Rowie VI



Claire Ashley
2021
Mixed Media
3" x 2" x 1"
Baw XI


Claire Ashley
2021
Mixed Media
10" Diameter, Dimensions Variable
Rowie I



Claire Ashley
2021
Mixed Media
3" x 2" x 1"
Rowie V



Claire Ashley
2021
Mixed Media
3" x 2" x 1"
Artist retains copyright and all licensing privileges to the artwork. Do you have questions about purchasing your artwork? Click on our
FAQ
page.
About the Artwork

Claire Ashley's work investigates inflatables as painting, sculpture, installation and performance costume. These works have been exhibited nationally and internationally in galleries, museums, and site-specific installations, performances and collaborations.

Ashley's Adam's Madam: V2 will be on the Kimball Arts Center roof periodically through the summer, weather permitting. Other inflatable sculptures will be on display throughout the Kimball Arts Center building during her residency.



About the Artist

Scottish-born, Chicago-based artist Claire Ashley mines the language of painterly abstraction, monumental sculpture, slapstick humor, and Pop Art to transform ordinary materials into inflatable painted sculptures.

Ashley received her MFA from the School of the Art Institute of Chicago (Chicago, IL), and her BFA from Gray's School of Art (Aberdeen, Scotland). Currently, she teaches at the School of the Art Institute of Chicago in the Department of Contemporary Practices, and the Department of Painting and Drawing. She has an old husband, three fabulous young adults, two dogs and two cats.


exhibition: The Cube, DEMI - B.A.I.R.N.S. (A Gaggle) - Claire Ashley


Print & Object is proud to announce the opening of B.A.I.R.N.S, (A Gaggle) by artist Claire Ashley, in collaboration with The Cube, Demi. Known for her maximal inflatable sculptures that explode the possibilities of painting into gestures of living skins gorged with volume and saturated in color and texture, Ashley's new series inverts the power of size with grandeur and wit.

Germinated from the lineage of her 'mothership' inflatable, B.A.I.R.N.S, (A Gaggle) introduces the petit offsets shed from the mighty progenitor. Dependent on air, some of these children are plump full of the sustenance of one deep breath held permanently in their body. While others are in formation, living on life support, learning to breathe with miniature fans that push small amounts of air through them. These neonates have not yet cast off their protective, slick, lumpy, textured, and cushioned skin that wards off bumps and bruises.

The mini descendants are playfully precarious explorations into scale, domestic space, and surface tension, speaking directly to the enigmatic qualities of The Cube, Demi. A site of contradictions, The Cube, Demi is a project space that is small in scale yet mighty in mission. In collaboration with Print & Object, The Cube is where an exhibition space and an editions program meet.