Angela Finney : Acts of kindness
Dignified Silence


Angela Finney
2022
Pine, found objects and acrylic
2.5" x 3.75" x 10"
Protected Honesty


Angela Finney
2022
Walnut, found objects and acrylic
5" x 3" x 14"


Determined Patience


Angela Finney
2022
Walnut, pine, found objects and acrylic
7" x 4" x 8.5"


Engaged Meanderings


Angela Finney
2022
Walnut, found objects and acrylic
5" x 4" x 16.5"


Confided Offerings


Angela Finney
2022
Walnut, found objects and acrylic
5" x 4" x 6.5"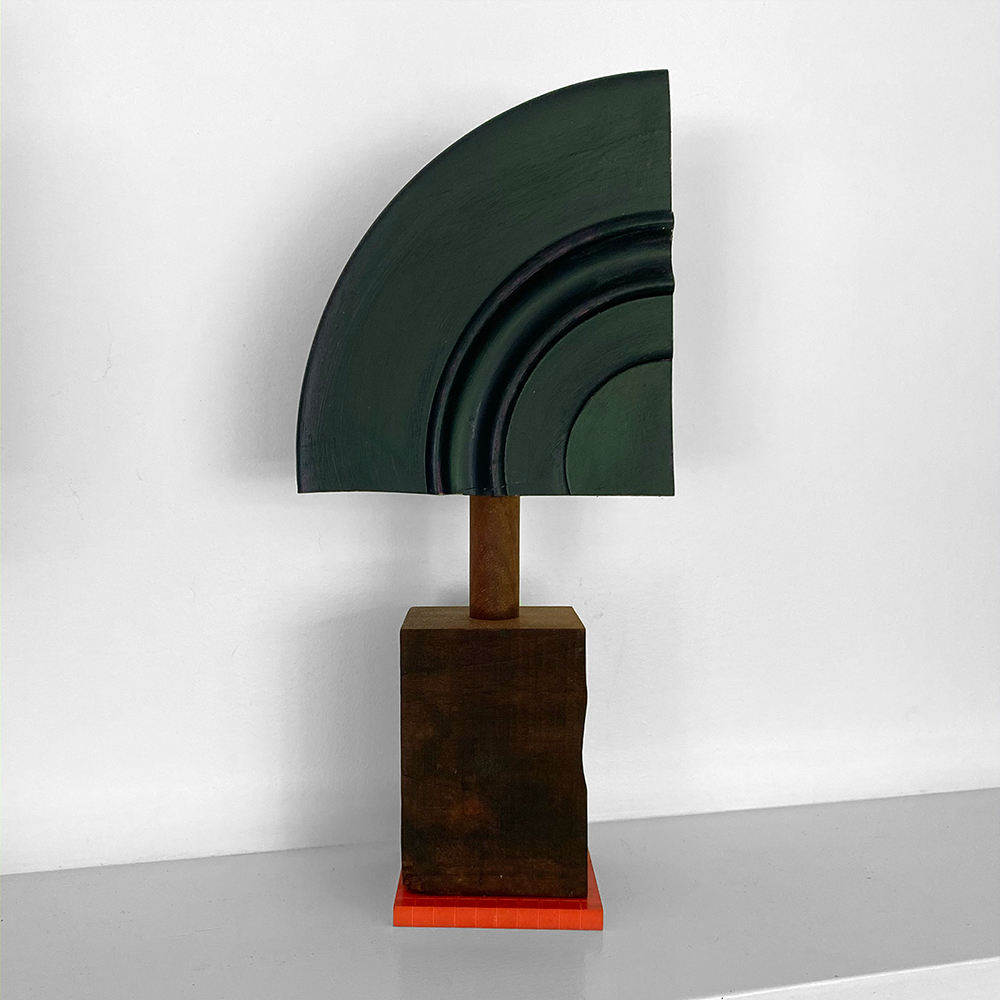 Endeared Understandings


Angela Finney
2022
Walnut, found objects and acrylic
7" x 4" x 16"


respected boundaries


Angela Finney
2022
Walnut, pine, found objects and acrylic
5.5" x 3" x 12"


Embraced emotions


Angela Finney
2022
Walnut, found objects and acrylic
4.5" x 2" x 14.5"


Honored Independences
Angela Finney
2022
Mahogany, walnut, found objects and acrylic
4.5" x 3" x 13.5"


Understated sympathies


Angela Finney
2022
Mahogany, cherry, pine, found objects and acrylic
4.25" x 3" x 9.5"


Artist retains copyright and all licensing privileges to the artwork. Do you have questions about purchasing your artwork? Click on our
FAQ
page.
About the Artwork

Print & Object is honored to announce the release of a new series of sculptural works by Western North Carolina-based artist Angela Finney. Mighty trophies of unexpected proportions, Finney's sculptures playfully contradict notions of order, scale, and structure in celebration of precarious pairings, imaginative anatomy, and energetic color.

With a background in furniture and interior design, fine art and craft, Finney's studio practice is multi-disciplinary and ranges from producing large-scale experiential art installations to sculpture and works on paper. Inspired by architecture, her new sculpture series translates such grandiose references into intimate gestures of complex formal shifts.

Derived in part from found objects, Finney's sculptures are imbued with layers of material history. Surface texture and slight imperfections enliven each work with a lineage of past life, a patina of personality. Partnered with newly designed forms, this union of found and made objects creates a juxtaposition of the readymade and hand-crafted. Installed together, these sculptures form a community that speaks to Finney's interest in social nature, questioning competition, and the sense of self. Exhibited individually, Finney's works evolve and unfold in their space, calling forth new relationships and activating fresh perspectives wherever they reside.








About the Artist

Angela Finney recently returned to the mountains that raised her where she creates works in her studio tucked in the folds of the Appalachian mountains, outside of Asheville, NC.

Raised by a family of graphic designers, at an early age, Finney was drawn to mid century modern home furnishings and she began collecting vintage piece throughout her childhood. Finney attended VCU in Richmand VA where she was introduced to furniture design and build and obtained her BFA in Crafts. Intrigued by creating functional forms, Finney had a desire to understand how such forms work in the context of the space in which they fill. This pursuit brought her to the world of interior design while designing furniture and lighting in the design studio of Holly Hunt in Chicago.

In 2007, Finney decided to leave the corporate design world to open up Post 27 Inc in Chicago. Located in a warehouse space, Post 27 was a creative outlet that allowed her to share an unexpected world of vintage furnishings paired with locally made works arranged in avant garde vignette installations. Fulfilling a goal that was set at a young age, she moved to NYC and worked for shOp Architects, known for their use of materiality from interior applications to the facades of highrises. She worked closely with the architecture teams to inspire building form and materiality. But she longed for a more intentionally slower pace of life surrounded by nature.

She now works closely with architects and designers creating large scale vignette installations of both found and crafted objects in immersive environments. Most recently, Finney collaborated with shOp architects by transforming the public space of tech campus, Company, located next door to Grand Central Station in NYC into grandiose scaled walls of shelving filled with dioramas that lure in its observers. She works in an array of materials from wood, to ceramics, encaustics, and paint. Her calling is to create and inspire. Light hearted character-esq shapes, bright color pairings and less than serious abstract subject matter works flow from her studio.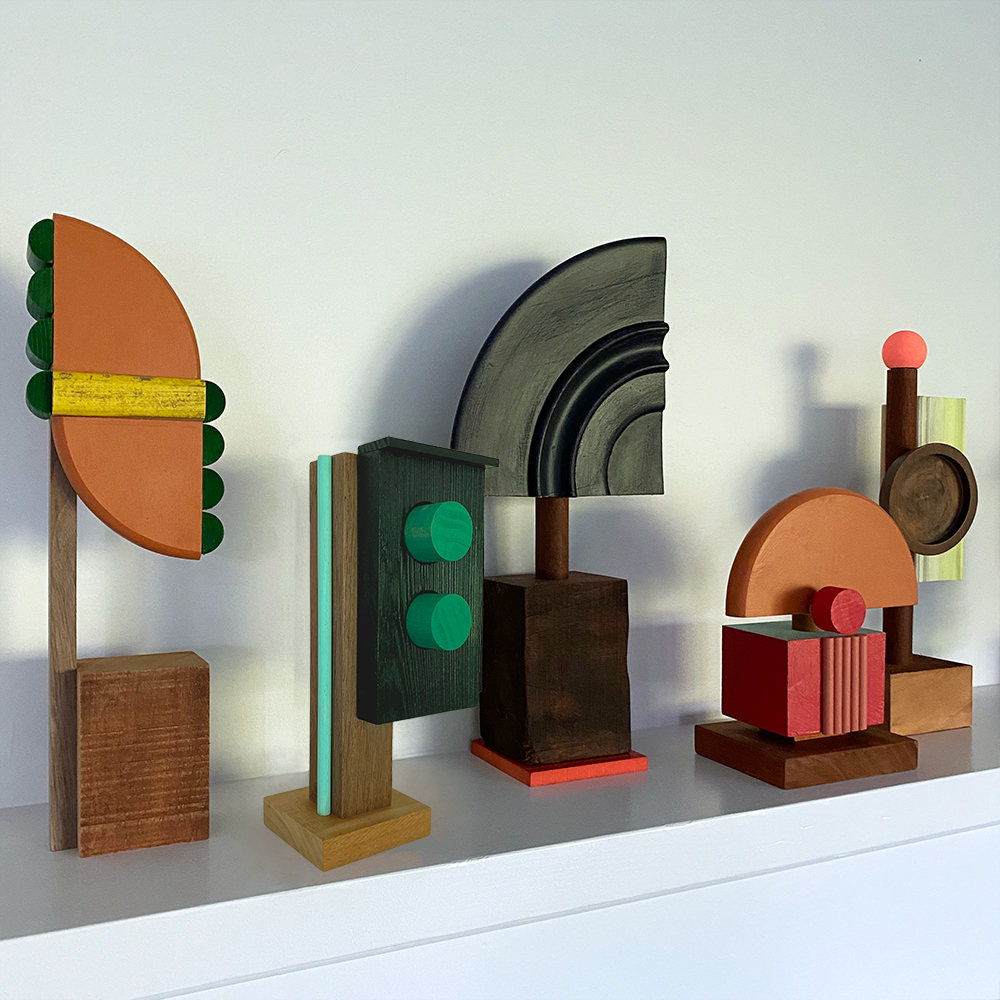 Finney in her studio.